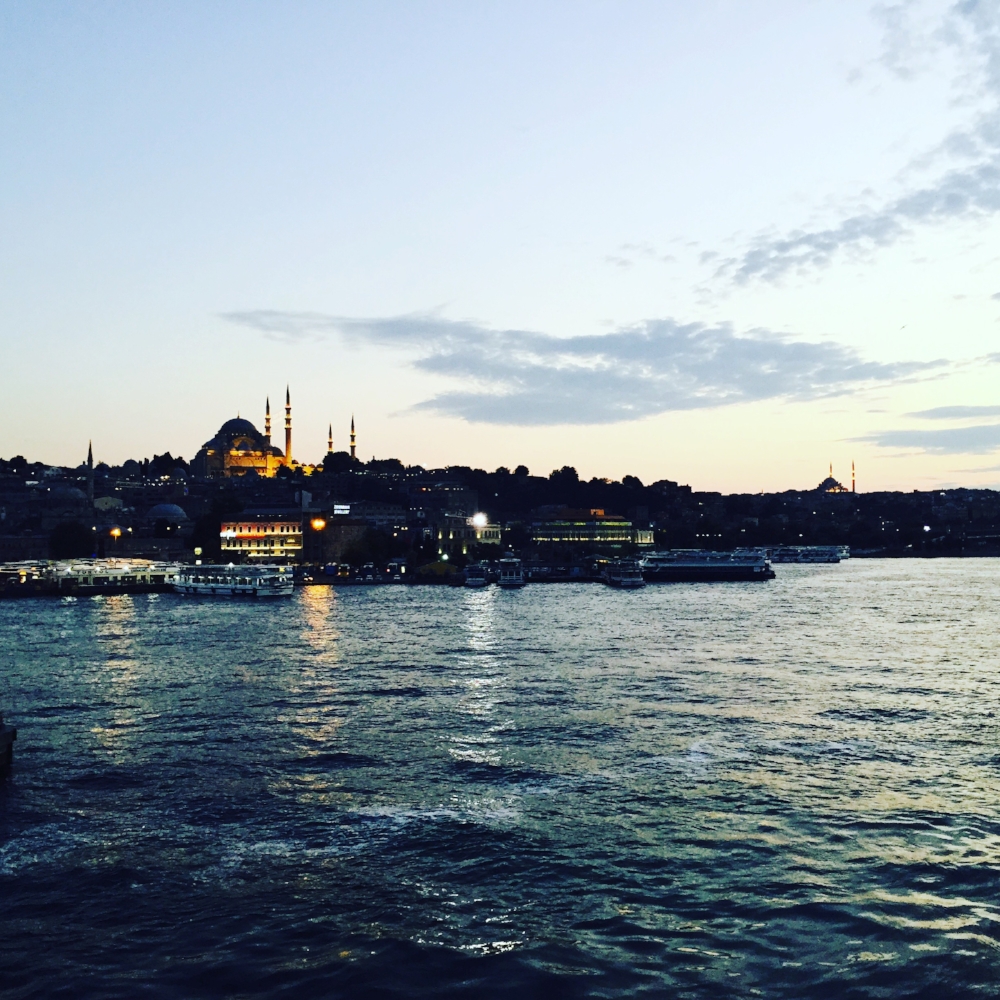 Istanbul continuously rates as one of the top global travel destinations year after year. Unsurprisingly, Istanbul, famously once known as Constantinople is one of the world's great cities, because of its deep historical importance at the crossroads of Europe and the Middle East and the lasting impact that has had on the face of modern Istanbul and the cities ability to reinvent itself while holding on to its storied past. Istanbul's unique location, straddling both Europe and Asia makes it a natural gateway for travelers. Whether traveling towards the Middle East or Europe, Istanbul comfortably allows any traveler to easily identify with its culture, while exposing glimpses of unfamiliar cultures yet to come. I have traveled through hundreds of cities over the years, but have rarely witnessed a more beautiful skyline than the one found in Istanbul.
Getting to Istanbul
We arrived in Istanbul late afternoon after flying non-stop for 10 hours from Washington Dulles on Turkish Airlines. I had heard Turkish Airlines, which was voted Europe's Best Airline in 2015 by Skytrax Passengers Choice Awards and placed fourth in the world ranking, was excellent and they lived up to every conceivable expectation, except for the limited legroom. The service onboard was warm and genuine, the food excellent, and the drinks plentiful, including the Turkish beer (Efes) and wine selection. I would highly recommend traveling with them if given the chance.
Where to Stay in Istanbul
Sultanahmet - Nowy Efendi Hotel
This would be my third, Carrie's fifth, and our friends Rob and Danielle's first visit to Istanbul, so Carrie and I were fairly familiar with where to stay and what to do. Like previous visits to Istanbul, this would merely serve as a long layover on a much larger trip. Istanbul is the perfect city for a long layover or a couple of days. The center of Istanbul is just a short 15-20 minutes ride from Atatürk International Airport, a major international hub, and the city has a wide range of world-famous historical sites, excellent restaurants, and hotels for every price range.
I chose to stay at the Nowy Efendi Hotel in the Sultanahmet area, which is where Istanbul's most recognizable sights are located, such as the Hagia Sophia, Blue Mosque, and Topkapi Palace. Another well-known site, the Grand Bazaar is only a short walk away. Sultanahmet also provides a vast range of accommodation from hostels to boutique hotels and major international hotel chains. The Nowy Efendi Hotel, a recipient of several awards such as TripAdvisor's 2014 Certificate of Excellence, featured uniquely designed rooms with a modern touch that made you feel at home right away. Our room had a large window with a little balcony that overlooked a narrow cobblestone street. Given our limited time in Istanbul, I pre-arranged with the hotel for a driver to pick us up from the airport.
After dinner, we had Raki, a Turkish drink, at the rooftop cafe of our hotel. This was one of the hotels best features. The cafe where breakfast is served provides a dramatic view of the Hagia Sofia as seen from my photo below. It was a perfect way to wrap up our short but adventurous evening in Istanbul. The next morning the same driver took us back to the airport for our trip to Nice, France.
Beyoğlu - Room Mate Kerem
On our return layover in Istanbul, we stayed in the Beyoğlu area. Beyoğlu is a trendy part of the city filled with restaurants, shops, and a bustling nightlife scene. I chose this area to give Rob and Danielle another glimpse of life in Istanbul. Our flight from Nice arrived late Saturday night. We again for the sake of expediency had a van from the hotel to pick us up at the airport. On the drive from the airport to the hotel, we were amazed to see how many people were out playing soccer, picnicking, and strolling along the promenade of Sahil Park, along with the Bosphorus. We hit severe traffic at 11:30 pm in central Istanbul as everyone was out enjoying their Saturday night during Ramadan.
For our stay in Beyoğlu, I chose the hotel Room Mate Kerem. Room Mate Kerem, a hotel with several other European hotels, that perfectly blends modern style with a touch of traditional Turkish design. The hotel has kept the original facade while designing a modern and unique and welcoming front lobby. The spacious lobby is decorated with large leather chairs and bookcases, giving the hotel an elegant and classy feel. The rooms are also very stylishly decorated with floor to ceiling windows opening to the street below.
What to See and Do in Istanbul
Hagia Sophia and the Blue Mosque
Ramadan was in full swing during our visit and the Sultan Ahmet Park, two blocks from our hotel (the Nowy Efendi Hotel), that separates the Hagia Sophia and the Blue Mosque, was packed with families awaiting iftar, which was just two hours away at this point. There was a great buzz about the park as friends and family talked and children ran around playing. We, unfortunately, missed the last entry into the Hagia Sofia and the Blue Mosque was not allowing visitors because of Ramadan. I would highly recommend a visit to both as they are stunning inside. We were content with our walk around the park soaking up the atmosphere.
After the long flight, we were happy to walk around. Thus, we walked down to the waterfront near Galata Bridge, the bridge the separates the two European sides of Istanbul, a 15-minute walk from Sultan Ahmet Park. Istanbul is at its heart a water-oriented city and you will find some of its most vibrant scenes along its waterfronts. A bonus to the spectacular Istanbul sunset from the Galata Bridge was the surrounding call to prayer that echoed from Istanbul's uniquely Ottoman designed mosques that famously dot the city's skyline.
Our stay in Istanbul this time would be shorter. Not wanting to waste any time we all got changed and headed up to the rooftop club of our hotel. When making the reservation I was not aware of the club, but it came in handy as we were looking to take advantage of our Saturday night in Istanbul. The DJ at the club two floors above could be heard from our room, so anyone not wanting to partake in Istanbul's party scene would have been frustrated. The rooftop club provided stunning views (nearly 360 degrees) of nighttime Istanbul. Istanbul has by far one of the best skylines, with its numerous Ottoman designed mosques, bridges that span two continents, and the skyscrapers of the city's commercial center. It was the perfect end to an amazing trip. Our flight back to Washington, DC wasn't until 1 pm so we could take our time getting back to the airport.
Istanbul is a great city to explore for two nights, a week, or even one night as it provides something for every traveler, from sightseeing ancient world famous historical sites to a vibrant shopping and nightlife scene. Istanbul's restaurants and food are both familiar to many travelers and delicious. The city also has a great network of roads and public transit making it easy to get around. Istanbul has served as a gateway city for centuries and has developed the perfect atmosphere.
Read: What to see and do on the French Riviera
All Photography by Albert Bond
Disclaimer: This post contains affiliate links. We receive a small commission when you click on one of the links embedded and make a purchase. We are appreciative if you do as it helps us to maintain our website.