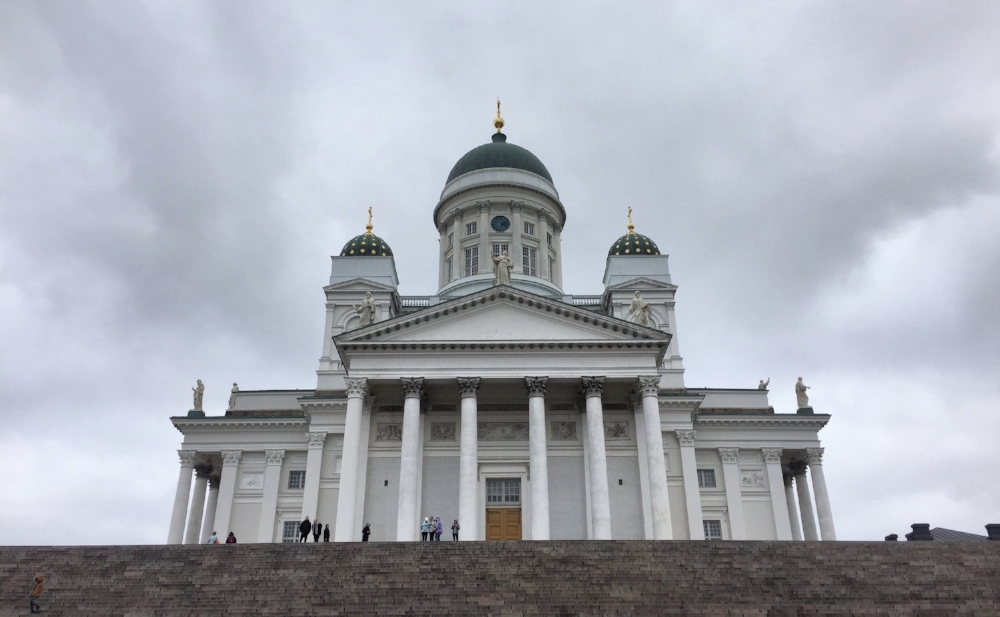 Going to Helsinki had been a dream of mine (Carrie) since I worked for Nokia's R&D lab in the early 2000s. Seventeen years later that dream finally came true. At the tail end of our trip through the Baltics earlier this year, Albert and I took a ferry from Tallinn, Estonia to Helsinki, Finland where we caught our flights back to DC. Since my trip was paid for by my work, I ended up staying an additional day after Albert left. While we love traveling together, it's sometimes nice to travel on your own.
Finland and Tourism
While Finland is a popular destination, its impact on the economy remains tiny. In 2016, the total contribution of travel and tourism represented only 8.8% of the domestic GDP and is only forecasted to rise by 1.9% in 2017. The relatively small contribution to the economy is similar for employment numbers. Again, in 2016 the total employment connected to the travel and tourism industry was 9.5% and is only expected to rise by 1% in 2017.
Unsurprisingly, most foreign visitors are from Russia, Sweden, and Germany. Also unsurprisingly 42% of visitors spend a night in the capital Helsinki, just as we did. The second most popular destination is Lapland in northern Finland. Finland has a landscape that is conducive almost year-round travel with many traveling around Finland in both summer and winter.
As with Vilnius, we had difficulty selecting a place to stay in Helsinki. There were so many options and we wanted to be near the ferry terminal and the central train station, which is located downtown. After much deliberation, we settled on Glo Art Hotel. In the design district of Helsinki, the hotel is a moderate length walk to the ferry terminal and central station in downtown Helsinki (10-15 minutes). Part of the hotel is in a castle and the other part is in a more modern annex. The rooms are clean, spacious, and comfortable and the breakfast buffet is good. If you're leaving before breakfast begins the hotel will arrange a small breakfast for you in the lobby.
Where to Eat and Drink in Helsinki
Il Birrificio
You know Albert and I love good, local, craft beer so we were ecstatic when we learned that there was a brewpub just two blocks from our hotel in the design district. After we checked into our hotel and took a short walk around the design district, Albert and I couldn't wait to stop into Il Birrificio. And, we weren't disappointed.
They had a great space, which I can only describe as an industrial farmhouse with a distinctly Scandinavian feel, a wide selection of Finnish craft beers, including some of their own, and a unique food menu. Obviously, we went for the house beer-I started with the Saison, which was good but wanted to try something different so, at the recommendation of the staff, I moved on to the Hiiepuu, a Gruit brewed as a collaboration between two Finnish breweries, Hissi and Tanker. I had never had or heard of Gruit before so I would have regretted not trying it. According to the staff, Gruit is a beer brewed with herbs. There was a distinct herbal taste, I'm not great at identifying them but the description says heather, juniper berries, and meadowsweet but it wasn't overpowering. I enjoyed the unique taste and would order it again if given the opportunity.
We enjoyed this place so much and were frankly a little tired by this point so we opted to stay and eat dinner here. Albert had the fish and chips-he can be British, and I had the roasted cauliflower and lentil sandwich-it tasted much better than it sounds. All this to say-stop into Il Birificio for beer and/or food if you're in Helsinki. You won't regret it.
Teerenpeli Kamppi
Teerenpeli was one of the first microbreweries established in Finland so it was only natural that I wanted to stop by one of their locations to try their beer firsthand.
Their restaurant Teerenpeli Kamppi, in the heart of Helsinki, was the perfect place to do this. Like Il Birrificio, the restaurant blended different décor brilliantly. I can only describe this place as industrial farmhouse chic. It sounds like an odd combination but they pull it off well. Plus, they have good beer, great service, and a top-notch location.
I stopped in after wandering the streets of Helsinki alone-Albert left early that morning- to enjoy some nice craft beer and people watching and to do some journaling. The first beer I tried was their Vauhti Veikko, a wheat beer, followed by the H.O.P. 2017 an American Wheat Ale. The Vauhti was nice and smooth and the second was, as its name implies was hoppy, a little too much so for my taste. But still both were pleasant and the perfect way to spend a winter afternoon in Helsinki.
Juuri
I was looking for a place to have dinner by myself after Albert left and I happened upon Juuri-as it's one of the few places open on Sunday. Juuri uses local, organic ingredients and specializes in modern Finnish food served in small portions, called Sapas.
I knew I hit the jackpot when I saw a cocktail made with sea buckthorn on the drink menu. Ever since I had sea buckthorn jam at the Great Northern Food Hall in New York City I've been addicted to this shrub.
Being on my own, I was limited in how much of the food menu that I could taste but I did my best. The meal began with smoked celeriac soup, compliments of the chef. Who knew this root vegetable could taste so good?! I've been experimenting with celeriac recipes since I started doing CSA (Community Sponsored Agriculture) a few years back but this soup was simply out of this world. A great way to start the meal, after the sea buckthorn breeze that is. I continued with the Arctic Char with cabbage, lambskin with beetroot, egg with buckwheat and fennel, and black salsify (a root vegetable) with mustard. I made every attempt to save room for dessert but this was definitely a case of my eyes being too big for my stomach. In a word, Juuri was heavenly and I highly recommend eating there if you go to Helsinki.
Andante
Andante is self-described as a "lifestyle concept plants and coffee shop aimed at promoting simple, sustainable, and happy lifestyle" -the ideal place for Backpacking with the Bonds to stop for a coffee. I certainly enjoyed drinking a cup of delicious hand poured coffee surrounded by luscious greenery.
What to Do in Helsinki
If you've read any of our guides (and I hope you have!) you'll notice that Albert and I rarely frequent museums. But because Finland is such a creative and artistic country (think Marimekko), we went to two art museums, the Helsinki Art Museum (HAM) and the Ateneum. Had the Kiasma been open we would have gone to that museum too.
HAM (Helsinki Art Museum)
Located in the city center, the Helsinki Art Museum (HAM) gallery houses a selection of its collection of Finnish and international modern and contemporary art. The rest is on display throughout the city. Of the museum's exhibitions, I most enjoyed the works of Tyko Sallinen and Tove Jansson, two of Finland's most well-known artists. Their pieces are the highlight and the foundation of HAM's collection.
The Ateneum, meaning shrine to the Greek goddess of wisdom and war and protector of cities and government, Athene, is one of three museums that make up the Finnish National Gallery. The other two are the Kiasma, which as I mentioned above was closed when we were there and the Sinebrychoff, which we just couldn't make it to because of time constraints. The Ateneum houses Finnish and international art, including works by Vincent van Gogh, Paul Gaughin, and Paul Cezanne. It was here I was introduced to the two Finnish artists mentioned above and which inspired me to visit more art museums in Helsinki.
Senate Square
Perhaps the most iconic site in all of Helsinki is Senate Square. Considered the oldest part of city center, Senate Square is made up of the Helsinki Cathedral, the Government Palace, the main building of the University of Helsinki, and the oldest building in central Helsinki, Sederholm House. No trip to Helsinki would be complete without a few photographs on the stairs or a visit into the cathedral.
Day tip to Tallinn
Take a short ferry ride across the Gulf of Finland to the beautiful and walk-able city of Tallinn! Here's what to see and do, as well as where to eat and drink!
All Photography by Albert and Carrie Bond
Disclaimer: This post contains affiliate links. We receive a small commission when you click on one of the links embedded and make a purchase. We are appreciative if you do as it helps us to maintain our website.