A Complete Guide to Oslo, Norway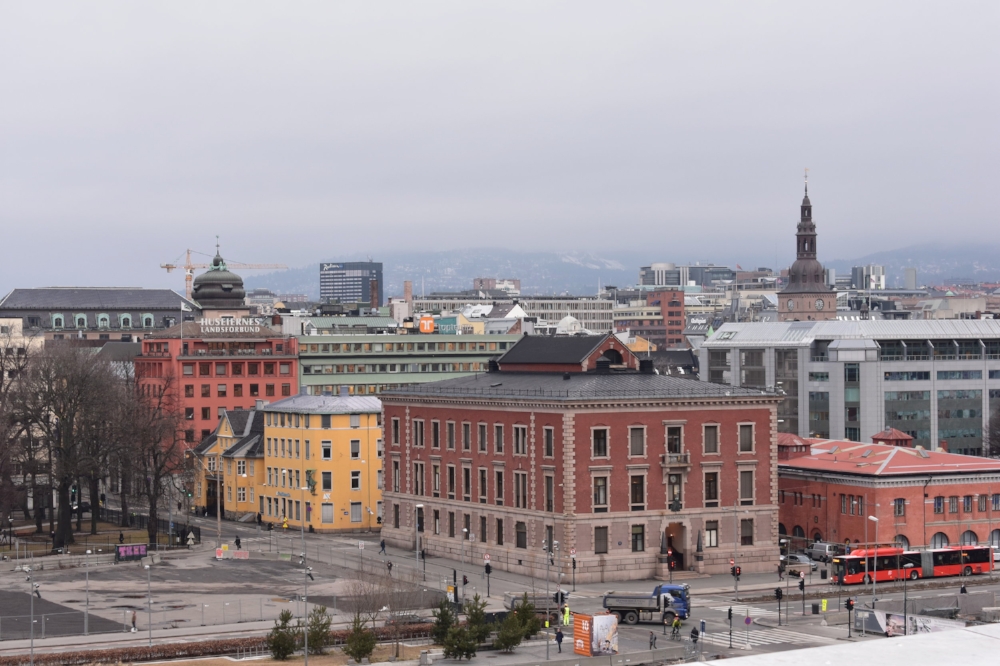 Since my organization is headquartered in Oslo, I return frequently for work and can update this post regularly. Occasionally Albert joins me toward the end of my work trips. This allows us the opportunity to update our guide with reviews of new restaurants and things to see and do in Oslo.
It's worth noting when we first wrote this guide we didn't have a vegan diet. Since then we have cut out (I completely and Albert is more of a semi-vegetarian) meat from our diets. You'll see below a review of restaurants that includes meat dishes.
Norway and Tourism
In 2013, Lonely Planet considered a budget experience in Norway to be €120 or less a day per person, which includes accommodation, food, and travel. Despite the common assumption that a visit to Norway is expensive, we were determined and successful at planning a (relatively) inexpensive and impactful visit by shopping at grocery stores and markets, visiting local bars and not those in touristy areas, staying in hotels that offered traditional Norwegian breakfasts, and selecting our travel dates to reduce the cost of travel.
Norway offers an enormous amount of sightseeing and adventure opportunities for travelers from its majestic arctic landscapes and famous fjords, to skiing, and gazing at the northern lights. For our five-day trip, we traveled to Bergen and Oslo. We began our trip in Bergen, a coastal city in southwest Norway, a popular embarkment point for cruises to the famous fjords. From Bergen, we traveled by train along one of the world's most scenic train rides to Oslo through wintry forests and mountains. We ended our trip with two nights in historic Oslo.
To and from the Oslo Airport
Take the NSB train to Oslo Central Train Station for only 93 Norwegian Krone (NOK), versus 180 NOK for the faster (by only 3 minutes) Flytoget airport train.
Where to Stay in Oslo, Norway
Yes, Norway is expensive compared to most travel destinations, but an affordable and moderately impactful (mainly because of our choice of hotels) visit is possible. Selecting centrally located hotels that include breakfast will save you local travel expenses and time besides extra meal expenses. As I've mentioned in my other past travels shopping at grocery stores for lunch and snacks is another way to save and expand your understanding of the country you are visiting, which we did in both Bergen and Oslo. Norway's infrastructure also means it's easy to get around by train and bus, meaning a rental car is unnecessary if you travel around and between cities.
Hotell Bondenhiem
Our hotel was a ten-minute walk from the Oslo Central Train Station down Karl Johans Gate, a popular shopping street in central Oslo. I chose to stay at the Hotell Bondenhiem, a Best Western managed the property, because of its proximity too many of the sites we wanted to explore in central Oslo, the positive reviews, and its affordability. The hotel was a block away from Karl Johans Gate and Spikersuppa Park. The hotel offered breakfast, but it was nowhere near as good as the selection at our hotel in Bergen, and it was crowded and the tables were dirty.
One way Lonely Planet recommends saving money when dining out in Oslo is to eat at ethnic restaurants and because of Norway's generous immigration policy Oslo as many Somali, Vietnamese, and Middle Eastern restaurants. With that advice, we walked the short distance to the popular Taste of the Far East, a Vietnamese restaurant for dinner.
That evening we stopped in a central dive bar called Stargate that was recommended as one of the few places to enjoy an inexpensive beer in central Oslo. The dive bar had an eclectic mix of Norwegians and foreigners, and while it was a little gritty it was well worth the beer and people watching.
Comfort Hotel Børsparken
On more recent trips to Oslo, I have stayed at the Comfort Hotel Børsparken. The location of this hotel could really not be any better. It's two blocks from the harbor where the Opera House is located and three blocks from the central train station. Not to mention it's within easy walking distance of some of the restaurants and attractions we cover below.
While the rooms aren't spacious the breakfast is enormous. Overall this is a good option if you're in Oslo for just a night or two. It location came in really handy when we had an early morning flight to Vilnius to catch.
What to see and do in Oslo
Oslo Rådhus and Opera House
Oslo offers an excellent range of free museums and historical sites that will interest everyone, such as the Historical Museum, Oslo Cathedral, Oslo Rådhus, and the Oslo City Museum. The Oslo Rådhus or Town Hall is the location of the well known Nobel Peace Prizes Ceremony. The grand main hall, where the ceremonies are held had a beautiful painting that covered the enormous wall. Upstairs were several ornate rooms that not only provided sweeping views of the harbor but featured several exhibits.
The Oslo Opera House, which opened in 2007 appears to float like an iceberg in the Oslo Harbor. It's stunning and completely unique design is beautifully set on the water with historic Oslo as its backdrop. Due to the cold weather we enjoyed a brisk walk around and on top of the opera house.
The elegant Grand Hotel, conveniently located just around the corner from our hotel is one of Oslo's most famous hotels and has one of its nicest restaurants, the Grand Cafe. Our dinner at the Grand Cafe was our one grand indulgence of our trip. For dinner, Carrie chose the monkfish, and I had two different reindeer sausages, accompanied with delicious potatoes and carrots. The splurge at dinner also included a Norwegian craft beer Ø Imperial Brown Ale at a cost of $23. Being a huge fan of craft beers I could not pass up the opportunity.
Viking Ship Museum
It cost 100 NOK to enter the Viking Ship Museum, which features two almost fully reconstructed ships that were buried, and one partial ship, and artifacts recovered near the ships. The three ships, the Oseberg, Gokstad, and the Tune are displayed inside the museum. The first ship you encounter as you enter the museum and the most impressive is the Oseberg, discovered in 1903. The ship is made of oak and can be both sailed and rowed by 30 oarsmen. The ship was built around 820 AD and was used as a burial ship in 834 AD, parts of the ship date back as far as 800 AD, making it the oldest of the three ships in the museum. They discovered each of the ships as part of burial mounds for nobles of the Viking period.
The Gokstad is equally impressive and is the 9th oldest surviving ship in the world. In addition, several sleighs and carts that were discovered with the ships are on display in the museum. Despite the trek from, downtown Oslo the museum is well worth it. Check out my video of the ship to truly appreciate its size!
To get to the Viking Museum take the 30 bus from in front of the Town Hall building, also nearby the museum is the Folk Museum. It's 33 NOK for a one-way ticket if you purchase it before you get on the bus from a vendor like 7 Eleven, or 55 NOK if you purchase it on the bus. Note if you are taking the bus from the city center get a day pass or a round-trip ticket as there is nowhere near the Viking Museum to buy the reduced price ticket.
One of the top things to do in Oslo is to visit the National Gallery. Unfortunately, we were in Oslo on a Monday the last time we were here, which is the only day of the week the museum is closed. It cost 100 NOK to enter and is well worth the price. The gallery has the best selection of artwork I have ever seen. Besides the great selection of Nordic artists, the gallery has several pieces of Pablo Picasso, one Henri Matisse, one Claude Monet, and perhaps the most well-known Edvard Munch a Norwegian Expressionist who painted The Scream. The downstairs exhibit room has a temporary exhibit, The Great Graphic Boom which featured most notably the works of Andy Warhol.
Where to Eat and Drink in Oslo
Sentralen
At the recommendation of Carrie's colleague Roberta, we dined at Sentralen on the last night of our recent trip to Oslo. Roberta, who has lived in Oslo for years is familiar with the culinary scene in Oslo and made the reservations.
The restaurant's seasonal menu uses Norwegian ingredients and sets out to create a social and informal atmosphere around each table that allows guests to share dishes. Unsure of what to order as everything sounded delicious, we ordered nine different dishes, all perfectly prepared and unbelievably good! What adds to the experience is that the restaurant is set in an old bank dating back to 1901. The grand main lobby remains exactly as it was when it was a bank and if you climb the staircase to the second floor, you can see the vault door is still in place.
We started with the smoked beet tartare topped with egg yolk, spiced with tarragon and horseradish. Not to miss out we also ordered the beef tartare! Both were exquisite!
Unsurprisingly Norway is well known for their excellent fish dishes so we ordered the Skrei (Norwegian cod) served with pickled rutabaga and smoked veloute and ceviche of halibut served with grape, cucumber, and dried roe.
My favorite was one of the last dishes we tried, the glazed beef ribs with chipotle seasoning.
One of the most unique dishes we had that night was the Norwegian svele, a batter-based cake similar to an American pancake which was served with horseradish-sour cream and roe. We enjoyed all the sensational food with a light-bodied red wine. If you are in Oslo and looking for that one splurge meal then consider Sentralen!
This hard to find spot in downtown Oslo is one of the best cocktail bars I have ever been to. The drink list is inspired by the unique characteristics of each region of the country. I had the Birch, a martini-esque cocktail infused with, as the name suggests, birch and topped with an olive stuffed with Tingvollost, Kraftkar Blue Cheese, otherwise known as the 2016 world champion of cheeses. It did not disappoint. Neither did the modern industrial interior and knowledgeable and friendly staff at Himkok. Not a bad way to spend a Monday evening in Oslo. I hear they have an outdoor patio-something to check out in the warmer months.
If you're looking to try some traditional Nordic food without spending your entire travel budget, then Olympen is the place for you. This former beer hall, in the East side of Oslo, keeps the simplicity of its previous life as a local beer hall in the layout and the prices but brings a world of class with enormous, beautiful chandeliers and delicious seasonal dishes. I had white fish with lobster cream sauce, served with the typical side of potatoes. It was heavenly.
The restaurant is also renowned for its extensive beer list featuring everything from small to large Norwegian producers. Unfortunately, I was staunchly observing my no "beer" policy that week and didn't even glance at the list so as not to be tempted.
All Photography by Albert and Carrie Bond