How to Spend a Fabulous Weekend in San Francisco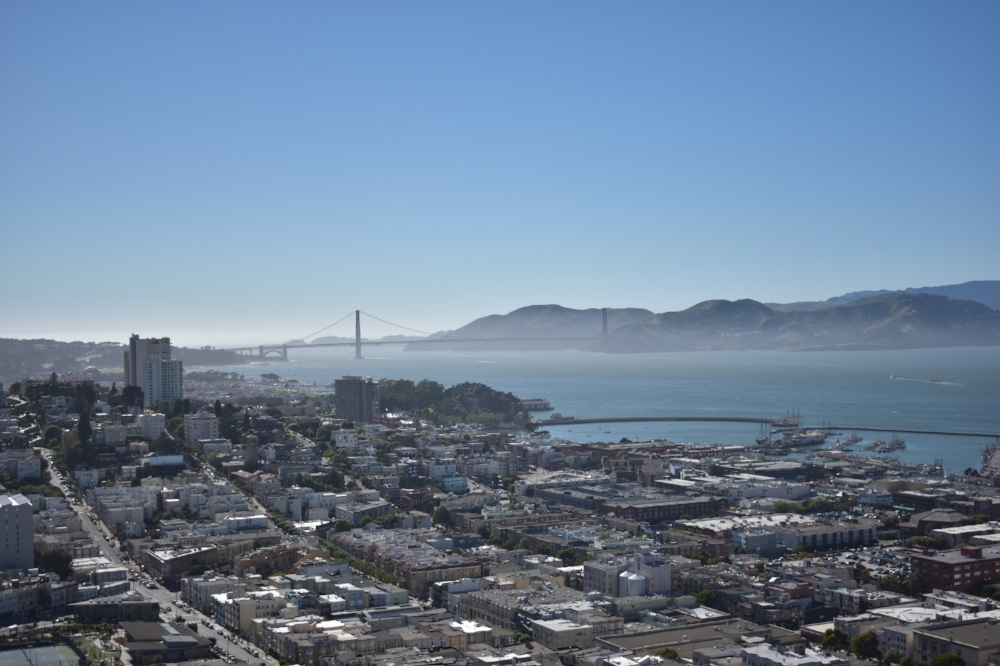 Posted September 29, 2017
I (Carrie) went to undergrad in the Bay area but hadn't been back since I graduated and left in 2006-over a decade so I jumped at the opportunity to join Albert at the tail end of a work trip in May. As luck would have it, tickets were affordable and I could fly round trip using a few points and around $60.
San Francisco/Bay Area and Tourism
San Francisco is undoubtedly one of the most popular destinations in the United States, famous for several world-renowned sites like Alcatraz, Golden Gate Bridge, and the city's cable cars. These sites, among others, draw a staggering number of visitors to San Francisco. In 2016 the city saw 25.2 million representing a growth of 2.8% over 2015. This volume of visitors spent an estimated $9 billion during their visits, supporting thousands of jobs. Tourism is important to the city's economy and is expected to grow.
Where to Stay in San Francisco
As Albert mentioned in a recent blog post, we stayed in an Airbnb in the Mission District. For my first night, we stayed at the Handlry in Union Square while Albert attended the final day of his conference. One night was more than enough for me. Our room had this horrible musty smell that clung to our clothes (we could smell it on clothes we wore in the room for days after we left). I could barely stand to be in the room the smell was so overpowering. And, while I would consider the location top-notch by some it was way too touristy for Backpacking with the Bonds. That's why we moved to one of the most eccentric neighborhoods in the country immediately after Albert's conference ended.
We found a fabulous Airbnb just a few blocks from the 16th Street BART station, which allowed us to explore some of San Francisco's most interesting neighborhoods. The cost was comparable to that of a hotel room but the experience was different. For a similar price, we got a beautifully renovated cottage with a kitchen, living area, and a large bathroom. Plus, our money went directly to the proprietors, an enterprising couple who live in the main house with their small family. We highly recommend staying at Autumn and Richie's Airbnb if you're in San Francisco, and if not theirs then one of the many other equally awesome Airbnbs in the city.
Read about our cool Airbnb in the Mission
Where to Eat and Drink in San Francisco
Foreign Cinema
Dinner at Foreign Cinema in the Mission is a must and came at the recommendation of a good friend of ours who lives in the neighborhood and with whom we dined. The menu is phenomenal with equally impressive wine and beer lists. We started with the beef sirloin carpaccio-you'll remember from our post about Vilnius, Lithuania, I can't resist a carpaccio, and asparagus with prosciutto and a fried egg. For the main course, Albert had their famous fried Madras-curry fried chicken, and immediately came to realize what all the fuss is about, and I the Hawaiian ahi seared tuna with beans and salad.
We were lucky enough to get a table in the courtyard with a prime view of the back brick wall, which features as the movie screen.
La Taqueria
Having lived in San Diego for four years I grew accustomed to frequenting the many amazing taco stands. It's been tough these past ten years eating sub-par bean and cheese burritos so I get rather excited when I come across the real deal, and La Taqueria is just that.
In the heart of the Mission, this no-frills place offers amazing burritos and tacos at affordable prices. Albert had eaten here before I arrived and knew I'd love it-he was right. After my bean and cheese burrito, I was so full I could barely walk but it was worth it.
Four Barrel Coffee Shop
Four Barrel Coffee Shop was located two blocks from our Airbnb and quickly became a favorite of ours. We ended up stopping here for coffee and breakfast nearly every morning. Typically, I would be slightly ashamed to admit this but it was so good and convenient we couldn't stay away. Plus, they have an impressive business philosophy. According to their website, they "try their best not to suck." Now that's a mission statement. Besides not being jerks, the owners of Four Barrel strive to develop fair relationships with their partners around the world and provide high-quality coffee. Next time you're in San Francisco stop into one of their 3 locations around the city, including the Mill (see below).
Philz Coffee
Albert visited Philz Coffee or the Original Philz before I arrived. This is a must for any visit to the Mission, especially if you have a Philz in your city. Philz recently opened a shop in DC and, while the food and drinks are the same and as good, the space in DC seems too commercialized compared to the original Philz.
The Mill
The only day we didn't stop into Four Barrel in the Mission was the day we ate at The Mill in the Lower Haight. The Mill though is a collaboration between Four Barrel and Josey Baker Bread. We already knew the coffee was amazing and so we were sure we wouldn't be let down by the bread. And, let down we were not. If there was a prize for the best avocado toast-The Mill would win. Hands down. A thick slice of freshly baked bread slightly toasted and topped with a smattering of fresh avocado and black pepper with a sprinkle of sea salt. If my description doesn't convince you, the photo below should.
Church Key
We were initially reluctant to try this North Beach bar specializing in local craft beer because we thought it was associated with the Church Key in DC. But we weren't able to find any connection through our internet research so off to Church Key San Francisco we went. Apart from serving good craft beer and sharing the same name, the two places had nothing in common. This Church Key was much more low key than the one in DC, a much-welcomed difference. If you're in the North Beach area and looking for a chill spot to try some of the Bay area's best local craft beers then stop into Church Key.
Who doesn't love a beer garden? Backpacking with the Bonds certainly does so we had to pop over to this place in Hays Valley after we settled into our Airbnb. Just a short walk from the Mission, Hays Valley is an upscale neighborhood with trendy boutiques and restaurants, and of course an awesome Biergarten. Not too long after we arrived the place filled up-it clearly was the place to be on that beautiful Thursday afternoon.
Bay Area Breweries
As you may be aware, San Francisco has a ton of craft breweries. We tried our best to visit as many as possible during our short stay. We wrote a guest blog for Nomadlifestyle about the breweries in May. In short, we highly recommend Black Hammer Brewing, Southern Pacific, and of course, 21st Amendment. Check out the full blog piece here.
Read: Where to go for Craft Beer in San Francisco and Berkeley
What to do in San Francisco
This was Albert's first "real" trip to San Francisco. He went a few years back for another conference but didn't have time to do anything outside of work. So, we had to do some of the requisite "touristy" stuff, including photos at Chrissy Field, walking across the Golden Gate Bridge and through Golden Gate Park with a stop at the Japanese Garden, and going to the top of Coit Tower. These are essential for first timers to San Francisco. But don't let this be all you do!
Like I said above staying in the Mission enabled us to get away from the main tourist draws and explore some of the more interesting neighborhoods in the city-like the Mission and Hays Valley. The Mission District is home to some of the city's best restaurants, coffee shops and street art, and one of the best parks-Mission Dolores. And while we really only stopped in at the Biergarten in Hays Valley, the neighborhood is full of restaurants and boutique shops that we could have gone to had there been more time.