Low Season Travel to St. John, U.S. Virgin Islands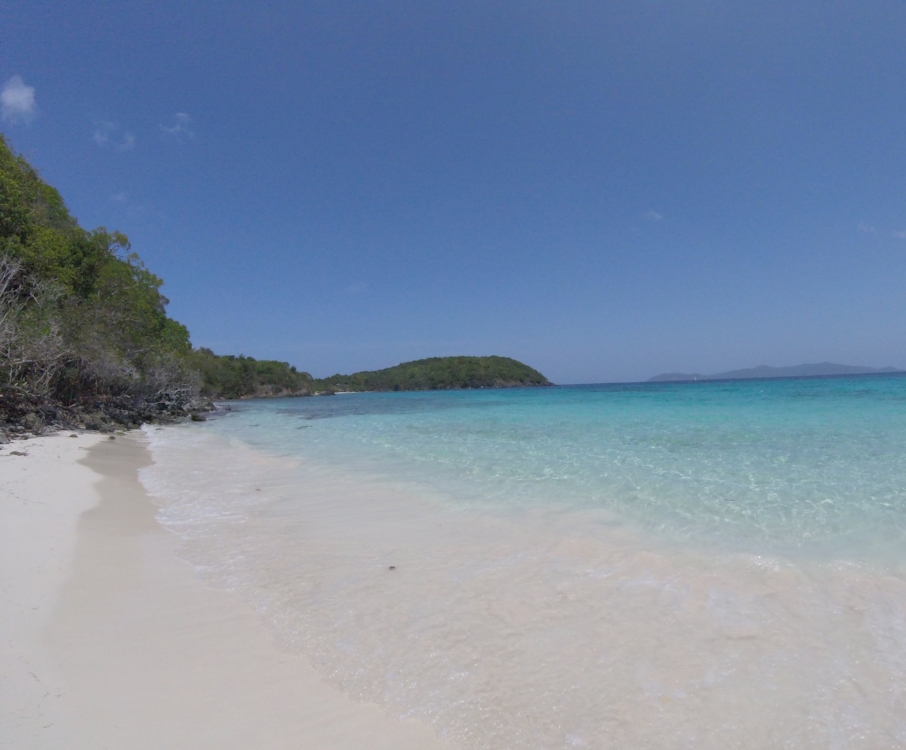 Late summer, for those who don't know, is the low season for much of the Caribbean. In search of a relaxing beach and nature-oriented trip, within short travel distance from Washington DC we decided upon St. John, the smaller and lesser traveled to of the three main islands that comprise the U.S. Virgin Islands.
St. John, covered by a U.S. National Park (approximately 60%), is an idyllic destination with white sand beaches and turquoise waters, and verdant hills and palm trees as the backdrop. The weather is neither too hot nor too humid, and there is a vibrant bar and restaurant scene in Cruz Bay, the primary point of entry to St. John. St. John is described by the Tourism Bureau for the U.S. Virgin Islands as the place for those seeking to truly escape, which was exactly what we were looking for.
The U.S. Virgin Islands and Tourism
Unsurprisingly, tourism is the predominant industry of the U.S. Virgin Islands. It represented 29.9% of Gross Domestic Product (GDP) (total contribution) in 2014 according to the World Travel & Tourism Council and is forecasted to rise by 3.9% in 2015. To put that into the global perspective, the U.S. Virgin Islands is placed 18th out of 184 countries when it comes to measuring the economic impact that tourism has on the domestic economy. Tourism is responsible for 27% of employment, both directly and indirectly. This places impactful travel as a tremendously important aspect of travel to the U.S. Virgin Islands but also leaves the island susceptible to drops in tourist numbers.
Getting to St. John, U.S. Virgin Islands
Sometimes the harder the destination is to get to, the better it is, and the increased likelihood it will be less crowded. St. John has no airport and all passengers arriving by air arrive into Charlotte Amalie, St. Thomas. We started our journey to St. John from DC with a 6 am flight to Miami and arrived in Charlotte Amalie after 2 pm. Upon arrival we took a shared taxi van ($15 each) from right outside the arrivals hall across the island to the Red Hook Ferry Terminal, where we caught the ferry to Cruz Bay, St. John. The ferries leave on the hour, take 30 minutes, and cost $7 per person, plus $4 for each piece of luggage. For great views of the Caribbean Sea and the islands, I recommend sitting up top.
Where to Stay in St. John
Estate Lindholm
Our decision to stay at Estate Lindholm was simple. We searched for a boutique, family operated hotel, with a pool overlooking the Caribbean Sea, within easy walking distance of the beaches, and downtown Cruz Bay. Estate Lindholm offered all of that and more. At the edge of the U.S. Virgin Islands National Park, high above Cruz Bay, Estate Lindholm provides guests sweeping views from every room, the pool, and the patio where breakfast is served.
The 16 room property names each room after one of St. John's beaches. Our room, Cinnamon was designed in the classic Caribbean style of exposed wood trim with white walls. The back of the room opened to a large balcony that provided spectacular views of the Caribbean Sea. We spent every morning and evening on the balcony, a view I would never tire of.
Seeing as it was the low season we practically had the pool and breakfast patio all to ourselves. One of the biggest benefits of staying at Estate Lindholm is that Honeymoon and Salomon beaches are within walking distance, both are stunning and secluded.
Each morning we had breakfast on a patio overlooking the Caribbean Sea. It's a view I could never grow tired of.
Where to Eat and Drink in St. John
The Longboard
We loved this open, centrally located restaurant so much we ate there twice. Eating out in St. John can be an expensive endeavor, but The Longboard provides a great selection of small plates that are less expensive, and delicious and spectacularly prepared. The food, cocktails, and service make The Longboard an absolute must during a visit. On our first visit, we each had a burrito bowl-Carrie got the shrimp, and I ordered the Caribbean Spice.
The most notable dish was the ceviche, I had the octopus ceviche and Carrie the fish of the day, which happened to be flounder.
If you have only one night in St. John and are willing to spend a little money, then Asolare an Asian fusion restaurant is the best choice. Asolare, conveniently next door to Estate Lindholm was where we ate our first night in St. John. I would highly recommend making a reservation, even in the low season the competition for a spot overlooking the Caribbean Sea at sunset is hard to get and well worth it.
We started with tuna tartare, which was served with crispy wontons and seaweed. For dinner I had the shrimp and grits accompanied with locally grown vegetables, an important aspect of Asolare and Carrie had the Tahitian salad, also served with locally grown greens.
Our dinner was made complete with a rum tasting, which is highly recommended and comes presented by an incredibly knowledgeable sommelier.
De Coal Pot
I love Caribbean dishes, especially curried goat and once I discovered that De Coal Pot served it along with other classic Caribbean dishes like red snapper creole, oxtail stew, and roti we had to check it out. De Coal Pot, the place for authentic Caribbean cuisine is centrally located, just two blocks away from the beach and port in downtown Cruz Bay.
I, of course, had the trini curried goat saute and Carrie the red snapper pan fried with creole sauce, both served with sides of our choosing, like steamed vegetables, fried plantains, and sweet potato stuffing. My curried goat was exactly what I was craving, deliciously marinated and satisfying.
The restaurant also has a selection of signature cocktails many made with Cruzan, the rum of the U.S. Virgin Islands. For an authentic Caribbean meal in Cruz Bay look no further than De Coal Pot.
Dolphin Market
It's always a great idea to locate the closest market once you arrive at your destination. Shopping at markets is a great way to keep the costs down while traveling, and is also a simple way to contribute to the local economy. We visited the Dolphin Market in Cruz Bay to grab water, beer, and staples for our excursions to the beach.
That's right, St. John has its own brewery. You might think we chose St. John because of the brewery, but we didn't. Though, we were both pleasantly surprised to see they had one. While the beer is not brewed in St. John, it's brewed nowadays stateside to meet the demands of the local market. They have a great selection of beers at their expanding taproom, like the Island Summer Ale (which could be available all year), Liquid Sunshine Belgian Pale Ale, and what appears to be the most popular, the Island Hoppin IPA. Even if you don't make it to the taproom, in a shopping plaza along the road to Estate Lindholm, you can find their beer at bars and restaurants all over the island.
What to See and Do in and around St. John
Beaches
Within an hour of arriving at Estate Lindholm, we were on our way to Honeymoon Beach. Spending our first late afternoon at the beach made the journey worth it. Honeymoon Beach one of the closest to our hotel, was nearly empty while we were there. Having unspoiled beauty nearly all to yourself is the best part. This was also my chance to test out my new GoPro Hero Session.
The following day at the recommendation of Gordon, the Estate Lindholm manager we set off to another beach a little further along the coast. Another benefit to staying at Estate Lindholm is learning about some of the lesser known beautiful beaches of the island. We spent much of the afternoon at Hawksnest Beach. St. John offers many stunning beaches such as Hawksnest, Trunk Bay, and Cinnamon Beaches, but those tend to be crowded, even in the low season.
Travel around the island is made possible by the ubiquitous shared taxis, which are pick-up trucks with benches on the back. We stood along the road and never waited long for a taxi to stop by and pick us up.
Scuba Diving
Considering St. John is mostly a U.S. National Park, they protect much of the water around it, giving the island large amounts of coral and abundant sea life. I have gone diving twice before, once off the coast of Isla Mujeres, Mexico, and the other time in the Great Barrier Reef. This would be Carrie's first time diving. Check out a separate blog post about the dive.
Day Trip to the British Virgin Islands
The grouping of islands named by Christopher Columbus, are split into the U.S. Virgin Islands (St. Thomas, St. John, and St. Croix) and the British Virgin Islands (Tortola, Virgin Gorda, Anegada, and Jost Van Dyke), which are, as the name implies, part of the British Overseas Territories. The proximity of the British Virgin Islands makes them perfect for a day trip from the U.S. Virgin Islands. Not ones to miss an opportunity to visit a new country or territory Carrie and I planned a day trip to Tortola, BVI. Check out our separate blog post about the visit.
All Photography by Albert Bond
Disclaimer: This post contains affiliate links. We receive a small commission when you click on one of the links embedded and make a purchase. We are appreciative if you do as it helps us to maintain our website.