Svalbard- Adventure at the End of the World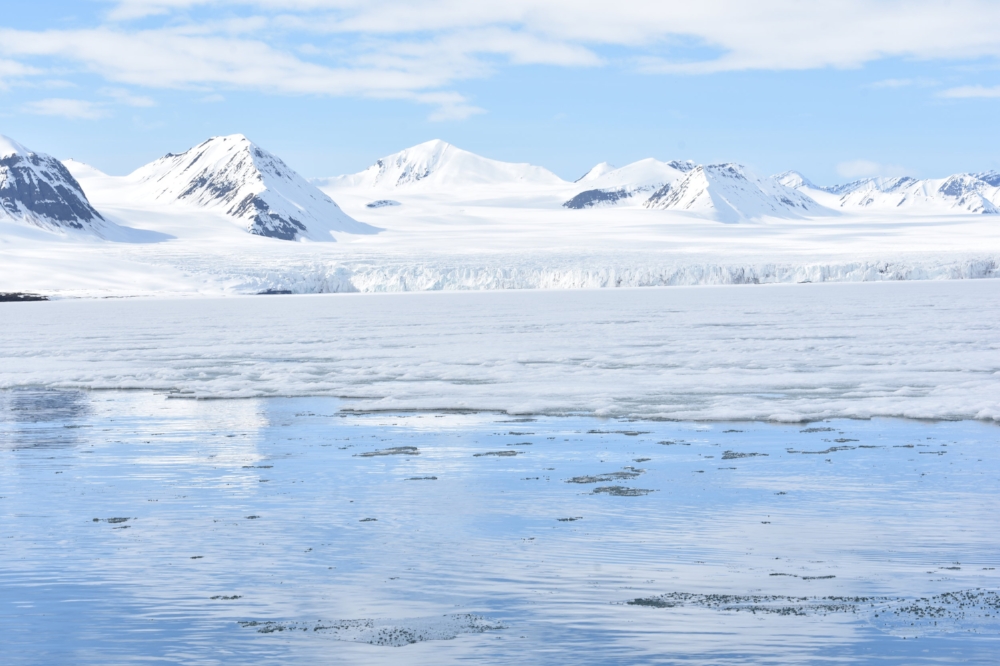 Visiting the island of Svalbard, located in the high Arctic Circle in June was the trip of a lifetime. In the lead up to our trip it was cool to tell people we were traveling literally to the end of the earth! For weeks we had planned our excursions and bought the necessary gear for quite possibly our most adventurous trip to date. The trip was inspired by our desire to do more hiking, and that Carrie would be in Oslo, Norway for work in June.
Not sure where Svalbard is located? Click here to see on a map.
On our arrival into Svalbard, we quickly learned that the island lies at 78 degrees north. The island's northerly location on earth was clear from the moment we landed at 2:20 a.m. and the sun was still shining as if it were 2:20 pm. In fact, the sun wouldn't set during our entire visit to Svalbard's capital, Longyearbyen, located a mere 814 miles from the North Pole. This is the closest you can get as a traveler.
Upon arriving in Longyearbyen, the sleepy frontier town, we hitched a taxi ride from the airport with another couple and traveled to our Airbnb on the other side of town. There aren't a line of taxis waiting like at many other airports in Norway. The only way to travel from the airport is on a coach bus that runs a prescribed route through town or one of two taxi companies. When we left, we arranged the taxi pick the night before for peace of mind because our flight left just after 2:30 am.
After getting settled into our apartment and realizing it was nearly 4 am we decided it was best to get sleep, and by this point, I had been traveling close to 36 hours. We were thankful we brought sleep masks as sleeping with the sun brightly shining through the light curtains would have felt more like a nap than a night's sleep. So if you plan on visiting between May and September definitely bring a sleep mask.
So you must wonder what's there to see and do at the top of the world? Well unsurprisingly, a lot of outdoor activities! If you love hiking and outdoor adventure, then Svalbard is an absolute for you. People travel to Svalbard mainly for two reasons, work in coal mining or tourism so you'll be in good hands if you travel here. As Norway looks to phase out coal mining, there is a big push to increase tourism.
What to do in Svalbard
There are three things you absolutely must do, which are: (1) go hiking; (2) take a boat trip; and (3) explore the town and the surrounding countryside. We filled three of our 4 full days in Svalbard with activities in each of these categories. Considering the effort we'd gone through to get to the Arctic Circle we had to take advantage and see and do as much as possible. So if you will travel to Svalbard make sure you have at a minimum of 3 full days there.
Read: The Bonds Guide to Bergen, Norway in Winter
Go hiking in Svalbard
We've gone on our fair share of hikes, but hiking a glacier was a whole new experience we couldn't pass up and one in the high Arctic Circle too!
We met our guide, Adam of Wildlife Adventures, who drove us to the southern edge of town. From there we planned our hike (7 hours and 12 km) up along Lars Glacier to Trollsteinen rock. We started out hiking through mud and rocks and then gradually snow and ice. Our small group of seven, including our guide, walked single-file for much of the journey. Luckily, we were provided with hiking poles, as the hike would have been difficult closer to the summit when the wind picked up.
Atop Trollsteinen we ate lunch and drank tea, all provided by Svalbard Wildlife Expeditions. From the top, we could see into Valley #1, in-between breaks in the wind and snow, and sweeping views of far off glaciers. The view was exactly what I expected when I envisioned myself atop a mountain in the high Arctic Circle. On the way down we took a different route through another valley known for fossils where we saw several fossils of leaves, which are said to date back 60 million years.
Read: How to Hike in Svalbard, Norway, the Northernmost Place on Earth
One thing of note is the need for polar bear protection. This means you go with a guide who has a rifle for an excursion outside the edge of town. While it's unlikely, you'll be in a situation where the rifle will be used, it's still necessary. Every guide we went with, even on the boat had a rifle. The day before we arrived in Svalbard a polar bear had wandered into town. The locals go above and beyond not to shoot the polar bear so they used a helicopter to scare it out of town.
Take a boat trip in Svalbard
You can't visit Svalbard and not take a boat tour to explore the surrounding landscape. Sticking to our goal to make this our most adventurous trip to date, we booked a boat trip with Svalbard Booking on an excursion called "RIB - along the ice edge" or also referred to as a fjord safari! Not only do we recommend the RIB (stands for a rigid-hulled inflatable boat) tour, but also booking it with Svalbard Booking. The Visit Svalbard website has an excellent database of all the excursions available, which is where we found this boat tour. During our trip, we learned we were the last trip of the season. They only offer the RIB boat tours for a few weeks a year.
I (Albert) looked forward to this part of the trip more than any other part. The RIB boat would get us closer to the ice edge than any of the other boat tours. Since the boat was exposed, and we were in the high Arctic Circle we had to dress for the situation. We topped our base layers, wind-resistant pants, sweaters, and down jackets with thick suits. Carrie had on two pairs of wool socks underneath the warm boots they provided and a second pair of gloves underneath the leather and wool mittens they provided, and even though it was summer, we were still cold at points on the water.
Not only did we take this amazing boat tour, but Carrie and I were the only ones on the tour! Since we had the boat, minus the captain to ourselves, we sat right up front allowing us to get some stunning photos and videos. The highlight was seeing two blue whales emerge from the water next to our boat on our journey to the glaciers.
Over several hours, we toured the glaciers of Boredreen, Nansenbreen, and Esmarkbreen. One thing that was clear was the extent to which the glaciers were melting. While it's normal to some extent during the summer months, they told us the melting was faster than in recent memory. This meant there were large ice chunks floating along the ice-edge, which kept us from getting any closer than we did. It's an excursion you absolutely must do if you visit Svalbard.
Explore the town and the surrounding countryside
One of the first things you notice about life in Longyearbyen is that everyone bikes and they leave their bikes outside unlocked. Since Carrie and I are big bikers when we saw that FatBike Adventures offered a biking tour out to Endalen and Mine 5 we jumped at the opportunity and booked a trip. Yet again we found ourselves the only other travelers on the excursion. Definitely not complaining about that!
The bikes were, as the name of the company implies, fat tire bikes, making it easy to ride over the rough Arctic terrain. Our bike adventure started in Longyearbyen with our guide who pointed out some of the town's historic landmarks. From the town, we headed east past the Svalbard Museum and university, and on to the husky kennel just at the edge of town. From there we headed further into the countryside along a gravel road that leads to the last operating coal mine managed by the Norwegians. During our ride, we passed reindeer and stopped for hot tea as we soaked in the stunning Arctic scenery.
Looking for some exercise and the chance to explore one of the valleys east of Longyearbyen then book yourself a bike excursion with FatBike Adventures. They are also listed on the Visit Svalbard website which is a great resource for all the available excursions. Check out the link here.
Where to Eat in Longyearbyen
Longyearbyen offers only a handful of options for dining and drinking, nearly all of which are located on the same pedestrian street that runs up the center of town. Drinking-wise Svalbard has its very own local craft beer, available at every restaurant! Dining-wise you'll see quickly the options are mainly burgers or pizza.
Rabalder Cafe and Bakery - A popular cafe for locals in the heart of the city that offers a great breakfast and lunch options. We went there on our first day for a late breakfast and I had a large custard and coconut pastry and Carrie had a vegan chia pudding. The cozy atmosphere was a great introduction to life in Longyearbyen.
SvalBar - We went to SvalBar twice. Longyearbyen doesn't offer a lot of options, so when you find a place you enjoy you might as well go back again and again. We liked the friendly staff and the selection of board games (we played Scrabble in English using the Norwegian alphabet) and importantly the local craft beer options. We ate here twice-with Carrie being a vegan dining options are not always easy to come by, especially in a frontier town; but, SvalBar offered a vegetarian pizza we had served without cheese.
Kroa - located right next to SvalBar, is popular for dining. We dined here twice getting pizzas of course, but they do offer a lot of other options, which include sandwiches, soup, and hamburgers. The beer selection here is also very good. The rustic interior is perfect for the town. If you happen to visit during the summer and it's warm enough they have a large deck area which is ideal for taking in the surrounding Arctic landscape.
Karlsberger Pub - The Karlsberger Pub is located next to the arcade mall and across the street from the only grocery store so at some point, during your stay you'll pass by. They only serve drinks and they have a selection of whiskey that would rival most bars. It's a great place to stop in for a drink.
Huset - Huset is located outside of the downtown area in a historic building. The building is impossible to miss as it's the only structure in the area. Over the years the building played an integral role in the mining community initially serving as a village hall. Now the lonely structure is one of the most popular restaurants in town with an impressive wine selection. Carrie tried to have some of their Swedish wine but they happened to be out when we were there.
Funken Lodge - The lodge was renovated in February and it's clear from the moment you walk in. The interior is cozy, cool, and modern. Although the food and drink are pricey, it's definitely worth the 15-minute walk from downtown Longyearbyen, even if it's only to grab a drink and enjoy the atmosphere.
Where to Stay in Longyearbyen
One of the best ways to experience what life is like in a destination is to stay in a house or apartment. Longyearbyen has plenty of accommodation ranging from the Radisson to the Coal Miners Cabins. During our visit in the peak travel season to Svalbard accommodation was expensive, so we opted for an Airbnb.
Our Airbnb was an apartment located five minutes by foot from the Radisson on the east side of Longyearbyen, close to the edge of one of the mountains that surround the city. The small one-bed apartment had views of the water, mountains, and glaciers off on the horizon. I know we said it above but it's worth mentioning again be sure to bring a sleep mask as the blinds don't always block out the sun-we've been told that Norwegians like to take in all the sun they can get so blackout curtains aren't really a thing even when the sun shines for 134 days straight from April 20th to August 22nd.
Chances are you are passing though Oslo on your trip to or from Svalbard. Looking for what we recommend in Oslo read our guide here.
All Photography and Carrie and Albert
If you liked this post, then like our page!