The Best of Burlington, Vermont in 48 Hours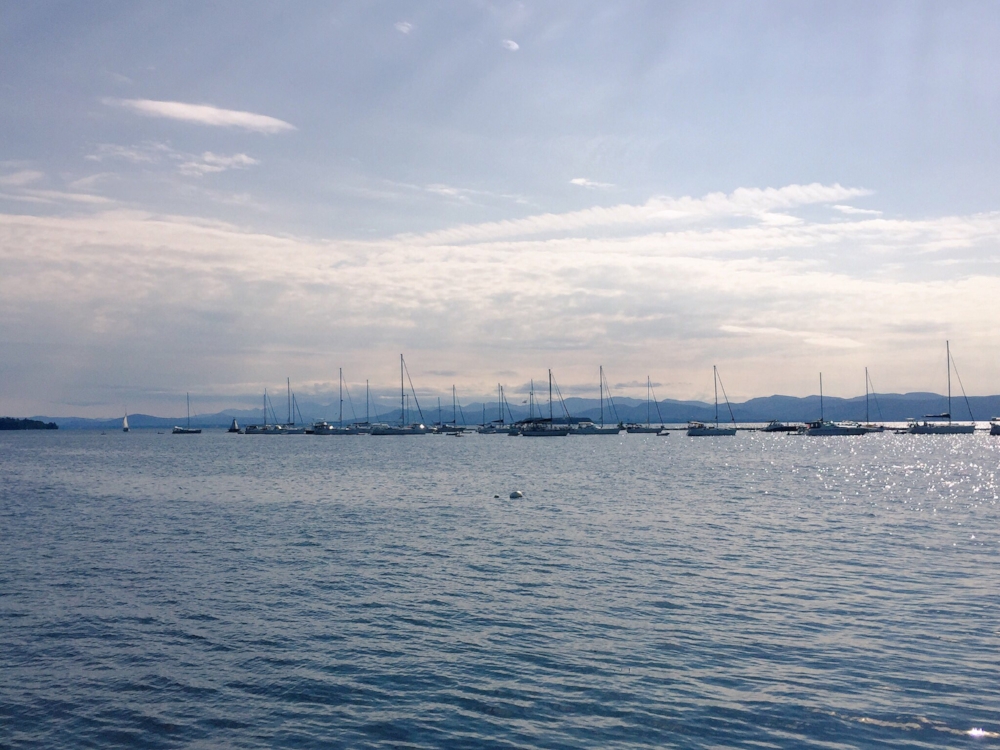 Posted September 11, 2017
Picturesque-lakeside Burlington, Vermont is the ideal destination for lovers of farm-to-table dining, ciders made from local apple farms, and those looking to explore the outdoors. Our visit to Burlington was short as it was the beginning and end of our trip further north to Quebec, Canada. We spent two nights in Vermont's Queen City, which gave us ample time to explore.
Burlington, VT and Tourism
If you're familiar with Vermont's beautiful scenery, then you won't be surprised to learn that tourism is one of the largest contributors to the state's economy. The state welcomes 13 million visitors each year, with the majority visiting during the summer. In 2015, visitors to Vermont spent $2.6 billion, supporting 30,000 (direct and indirect) jobs or roughly 8% of the statewide employment.
The second largest area of tourist expenditures is rightly within Vermont's impressive farm-to-table and local craft beverage and food industry. Fun fact: Vermont has more craft breweries per capita than any other state-35!! Sounds like the ideal place for Backpacking with the Bonds to visit and hopefully you will too after reading our guide.
Where to Stay in Burlington
Hotel Vermont
The Hotel Vermont is easily the top-rated hotel in Burlington and we had to stay there. Self-described as "full of comparable contradictions" and is THE place to stay in downtown Burlington. Many of the surrounding options are tired looking, corporate hotel chains, and are only slightly cheaper. What we loved about the hotel was not only its location, ideal for exploring downtown Burlington but the hotel's modern-rustic design clear from the moment you walk through the lobby door.
Our room was spacious, beautifully designed, and had a view of Lake Champlain! One cool aspect was that the room was decorated with local goods that could be purchased directly from the hotel like the blanket, a serving tray butcher block, and coffee mugs. If you're looking for the best option in Burlington then our recommendation is the Hotel Vermont.
The Hotel Vermont also has a great bar and restaurant with a large outdoor patio. The bar offers a great selection of Vermont whiskeys, the perfect way to start or wrap up a visit to the city.
Where to Eat and Drink in Burlington
Penny Cluse Cafe
My favorite meal of the day is breakfast and I absolutely love eating out for it! Someone recommended penny Cluse Cafe as THE place for breakfast by just about every person we knew who had traveled to Burlington. We stopped into the cafe on a Thursday morning and were somewhat surprised to find a 20-minute wait! This place was good.
To kill time, we took a short walk around the downtown area. When we returned, our table was ready as were we to try this highly recommended food. I had the griddled egg and cheese sandwich and Carrie poached eggs and toast. Everything was delicious as expected and we left energized for the short drive to Montreal.
Citizen Cider
It's not recommended to visit Vermont without exploring the cider scene and Citizen Cider is one of the best places to do that. Citizen Cider is located south of the downtown area and within easy walking distance of the waterfront and Hotel Vermont. Unsure of what cider to have we opted for the obvious choice, the cider flight of five.
For my flight, I chose a selection ciders ranging from dry to sweet, which included Northern Spy, Jam On, and The Lake Hopper. My favorite, the Jam On, is fermented with ale yeast and infused with organic raspberries from a farm in Vermont. Carrie's favorite was the Wits Up, a dry cider made with Belgian beer yeast.
The cidery does more than just great cider, they also serve great food. We had the poutine and Vermont cheese platter. It would be crazy to visit Vermont and not try their cheese! Other than the great food and cider the best thing about Citizen Cider is that it proudly supports local farmers from Vermont and New York.
Hen of the Wood
We were stuffed from eating at Citizen Cider, but couldn't pass up the opportunity to check out one of Burlington's top-rated restaurants, Hen of the Wood. Conveniently located right next door to the Hotel Vermont, we stopped in at the bar to enjoy one of several available Vermont whiskeys and dessert. We chose the Sapling Maple Rye from Saxton's River, VT to accompany our dessert. Hen of the Wood offers simple, uncomplicated and down-to-earth food and features a menu that changes daily based on the wealth of available locally sourced premium quality ingredients. Just an FYI Hen of the Wood is extremely popular and we highly recommend reservations.
What to Do in Burlington
Stroll Along the Waterfront
On the warm summer day we were in Burlington we took a stroll along Burlington's waterfront, which was the perfect way to spend the afternoon. We followed the trail that runs along the train tracks and explored the waterfront park that has spectacular views of New York's mountains and Lake Champlain.
From Burlington we drove north to Montreal where we spent a couple of hours exploring the city before driving to our friends' lake house in Quebec. Stay tuned for our upcoming blog post on our visit to Montreal.
All Photography by Carrie and Albert Bond
Disclaimer: This post contains affiliate links. We receive a small commission when you click on one of the links embedded and make a purchase. We are appreciative if you do as it helps us to maintain our website.