Everything You Need to Know About Visiting Prince Edward Island in the Fall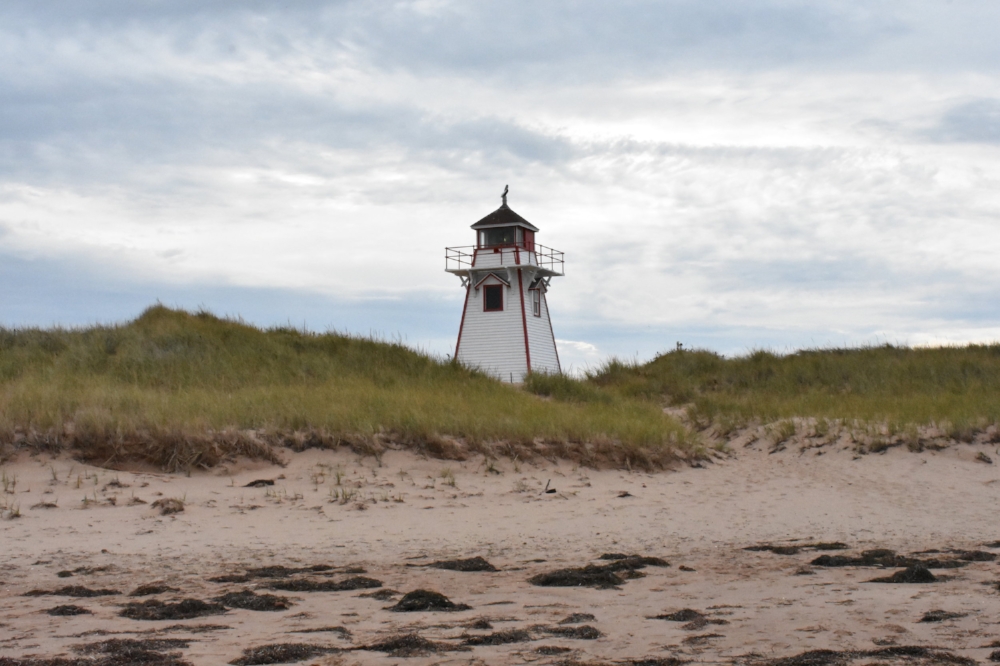 Toward the end of 2017, Albert got a new day job (yay!). During his transition, we took advantage of the extra time off and took a short trip to Prince Edward Island. It was the shoulder season (see over tourism) so it was really a great time to go. There weren't many tourists, except those in town for the Prince Edward Island Marathon so we practically had the entire island to ourselves. And, there's something to be said about going to the beach in the colder months.
We based ourselves in Charlottetown, the capital of this eastern Canadian province, because most things were still open even though the tourist season had ended, unlike many other parts of the island.
Prince Edward Island and Tourism
While Prince Edward Island is Canada's smallest province it has played a major role in the country's history, being the birthplace of the confederation. The province's history, along with the beautiful countryside and beaches has drawn visitors to the island for over a century. While the island has much to lure tourists, the industry does not dominate the economy. Today, agriculture is the leading industry on the island, but tourism has always played an important role even as far back as the 1800s when the island was marketed as "get away from high pressurized society".
Our visit, the second to Canada in 2017, coincided with the country's 150th-anniversary celebration. The country's extensive promotional campaign drew thousands of visitors from worldwide to witness the beautiful landscapes of Canada, including Prince Edward Island.
Getting There and Away
You can fly into Charlottetown airport, however, Albert and I chose to fly into Halifax and make the three-hour drive to Charlottetown from there with a rental car from Enterprise. Not only was this option much cheaper (even with the cost of the rental car) but we got to see the fall foliage of Nova Scotia and Prince Edward Island on our drive. There are two routes to take, one involving a ferry and the other along the longest bridge in Canada, the Confederation Bridge spanning 42,000 feet.
Where to stay in Charlottetown
Sydney Boutique Inn
We opted to stay at the Sydney Boutique Inn, which is located in the historic district of Charlottetown. The former convent and school has been converted into an eloquently designed 18 suites. Because it was the shoulder season, we got a good rate on the Executive King suite. The room comes with breakfast, which is served in a delightful downstairs dining room. Apart from the rooms, what I liked best about the Inn was the exceptional customer service. The front desk provided us with tailored recommendations for things to see and do, which wasn't an easy task given that the main season was over and most things were closed. They even got us into the Feast at the Inn at Bay Fortune, which typically has a months' long waiting list (see below). If you go to Charlottetown, the Sydney Boutique Inn is definitely the place to stay.
Read: Where to Spend Canada Day!
Where to Eat and Drink in Prince Edward Island
Upstreet Craft Brewing
One of two breweries, Upstreet Craft Brewing is a gem. It was about a 10-minute walk from our hotel. Upstreet has a wide range of complex beers, with the rhubarb witbier being my hands-down favorite.
And, to top it off, their menu is packed full of vegan options. For those of you who don't know, I've been trying to limit my consumption of animal products for a while now, and only recently decided to fully eliminate them from my diet (more on that in future posts). A lot of restaurants offer the option to remove the meat or cheese from the dish but this just makes the dish bland or boring. Upstreet, however, has dedicated vegan options. One of which I consider to be one of the best meals of my life, their "lox" sandwich, made with carrots on a homemade roll. My mouth is watering now just writing about it. Dare I say, it was better than the real thing? I do.
Although not vegan, Albert recognizes the benefits of eating less meat and dairy so he had the vegan mac and cheese. And, while he wouldn't claim it as the best meal he's ever had, he was satisfied.
The Feast at the Inn at Bay Fortune
"The Feast" is an absolute must for foodies and local enthusiasts, like Backpacking with the Bonds. This six-course meal, hence the name, "The Feast" starts with an oyster happy hour, where you can indulge on local PEI oysters and other appetizers that are spread out across the grounds of the Inn at Bay Fortune.
Guests are then seated family-style at two large tables where the Feast begins. The menu changes daily and uses ingredients from the Inn's farm and herb gardens and local farmers, fisherfolk, foragers, and culinary artisans. For our "Feast", we started with a hearty bowl of Chowder, then moved on to a small plate of Blue Fin Tuna with sautéd Spaghetti Squash, followed by an earthy salad with vegetables, fruits, and flowers, and finally duck breast with wood roasted potatoes. We finished with Caramelized Apple Tarts.
Obviously, this is well before I (Carrie) committed to a fully vegan lifestyle, but if I had, the restaurant was very accommodating and provided options for those with dietary restrictions. I (Carrie) also opted for the wine pairing, which is always a smart choice. Unfortunately, the Inn was about a 45-minute drive from downtown Charlottetown and Albert drew the short end of the stick and had to drive back.
The family-style seating is a great idea. We got to enjoy the company of our neighbors on either side. One couple was from New Jersey who was in town for the marathon and the other a Canadian couple who had driven up from Ontario.
When I had first heard about "The Feast" something drew me to the food and the emphasis on using local ingredients. I did not understand that the Inn was the site of a popular tv show, the Inn Chef and that the chef, Michael Smith, a celebrity. They told us that Michael Smith isn't always present at the Inn and not to get our hopes up but, we were lucky that day. Not only were we able to get in at the last minute, but Michael Smith was also at the Inn. I (Carrie) even stood next to him during his toast to kick off the last Feast of the season.
Prince Edward Island Brewing Company
The oldest brewery in PEI, Prince Edward Island Brewing Company has a large beautiful tasting room just outside of downtown Charlottetown. Albert and I each got a flight, as we typically do. The beer was simple and good. It's definitely worth a visit.
HopYard Beer Bar
Hopyard Beer Bar is a cool little spot in downtown Charlottetown that merges great craft beer, delicious food, and music. We popped in to warm up after exploring the city on a cold and windy day and were pleasantly surprised to see a range of Canadian craft beers we had yet to sample and hear Lucinda Williams playing. We weren't really hungry but with such unique options on the menu, we decided to try the falafel tacos. This was quite possibly the best pit stop we've ever made.
What to do in Prince Edward Island
As I said, much of PEI was closed or closing for the season so our options were somewhat limited. But, you can visit the beaches and lighthouses year-round so we spent most of our time walking down the beaches and driving around the scenic island looking at the various lighthouses. Since we didn't have too much time and we were already planning to drive west for the Feast later that evening, we stayed in the southern part of the island around Charlottetown. On our tour, we visited some of the island's best lighthouses, which included Wood Island Lighthouse, constructed in 1875, Covehead Harbor Lighthouse, built in 1967 and located in PEI National Park, Point Prim Lighthouse, PEI's oldest lighthouse, built in 1845, and Cape Bear Lighthouse, which was built in 1881.
On our lighthouse tour, we stopped at Rossignol Estate Winery for some wine tasting. As with most things at this time of year, they aren't always open so we were very excited when we saw the "open" sign. The tastings are free, though tips are welcome and glasses and bottles can be purchased. We tasted a few and decided to each get a glass of their L'Acadie Blanc, which was crisp and refreshing just as described. While drinking our wine, we perused the local items they had for sale and looked at the photos on display of the winemaker and owner, John Rossignol on biking trips around the world. I'm glad they were open that day!
On our way back, we stopped by Rocky Point, the location of a summer coastal community prior to European settlement across the harbor from Charlottetown. The park has great views of Charlottetown and Charlottetown Harbor and yet another lighthouse, Warren Cove Lighthouse.
Overall, we had a fantastic trip exploring the small island tucked along the northeast coast of Canada, While PEI is extremely popular in the summer it should not be overlooked as a fall destination, especially for those who love fall foliage and avoiding crowds.
All Photography by Carrie and Albert Bond
Disclaimer: This post contains affiliate links. We receive a small commission when you click on one of the links embedded and make a purchase. We are appreciative if you do as it helps us to maintain our website.